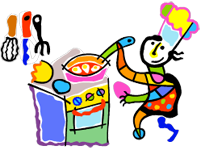 Art of Cooking
This delicious interest group is for those who enjoy the art and adventure of cooking. There is a different theme each month.  Members meet once a month to enjoy their homemade cooking and each other's company.

Books
The book group will meet once a month on the first Monday of the month at 7:00 PM at the homes of participating members.
Bridge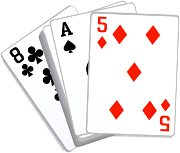 Bridge Group meets every month on the 3rd Tuesday at 7pm. We play social bridge using Chicago-style scoring (rather than rubber bridge scoring). The hostess provides goodies to eat which are usually snacks of nuts, pretzels, cookies etc. and soft drinks and or wine. The sessions usually end by 10pm. Everyone is welcome from beginners to pros for a social evening of bridge. We accommodate up to three tables and usually the hostess is a volunteer from the bridge group. Two to three days before the bridge date, the hostess telephones all previous players to get commitments to ensure that there will be enough players.

Music Ensemble
Do you play an instrument all by yourself and feel lonely?  Contact Leslie Lessenger at bvaauw@gmail.com about joining our informal and fun group:
Yoga

Led by AAUW member Anna Davis,  is continuing for the next 15 weeks, beginning 8/27, and continuing until 12/17. No class 9/10, and 11/26. All are welcome – drop-in, check it out. Thursdays, 11-noon, Jazzercise, 378 Military East. This is a fundraiser for STEM days for girls. Cost: 10 classes for $100, 8 classes for $88, 5 classes for $65, $15 for individual classes. Non-members may attend – individual rate only. Additional sessions may be purchased at the rate of your initial purchase.  Contact Joan Eignor at bvaauw@gmail.com